Smiles come easy when you look at a rainbow, and what better and easy way to celebrate an event. Whether it be  a christening, birthday, naming ceremony or engagement choosing to have a Rainbow Party Theme will be sure to please your guests whilst making the planning for yourself nice and simple.
Colour!
Color!
Colour!
– red, orange, yellow, green, blue, purple, pink are your standard colors which can be replicated from your invitation to your decoration to your food and drinks.
Invitations
You won't find it hard to create amazing Party Theme invitations with a little image search on the web. We love the free pack that can be found at http://www.fun-stuff-to-do.com/rainbow-party-decorations.html.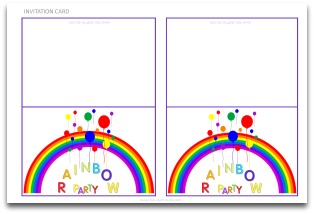 Decorations
Decorate your party area indoors and outdoors with balloons hung down in a line

Blow balloons of rainbow colors and leave them on the ground for the kids to play

Select rainbow designed paper plates and paper napkins for the party

Make rope balloons using balloons and string to decorate your party table
Rainbow Food Ideas
Fruit Platter with strawberries, pineapple, watermelon, grapes, cherries etc
Rainbow colored cupcakes and jellies
Hundreds and thousands, every colour you can imagine – sandwiches, pretzels dipped in chocolate and then H&T
Pizza with toppings of pepperoni, cheese, pineapple, green, red peppers, and onions
Games
Relay races with balloons colored in red, orange, yellow, green and blue. They have to work in teams of 2 to make up a rainbow in the teams corner/bag

Mix seven colored gems in a bowl and ask the player to segregate the gems of same color using chopsticks within one minute.

Keep all the children busy in doing creative work which involves all the rainbow colors like drawing, making of different colored clay toys.

Roll a Rainbow Game (below)